NEW! Dr. Josh Packard in a Webinar-on-Demand
Pivoting Toward Relationships:
A Webinar for Faith Leaders
Create a thriving environment within your organization that gives young people a sense of belonging, even amid uncertain times.
Young people need you, a trusted adult, more than ever in order to thrive and survive in a world where social isolation was their norm even before the pandemic.
Join us as we share groundbreaking research that will help you understand how and what young people need from you to flourish.
In this webinar, Springtide Executive Director Dr. Josh Packard will walk through some of the key findings from our two latest studies. He will talk through insights on young people's sense of belonging, and will articulate the shift that needs to occur in order to move from programming to personal relationships—and why. Dr. Packard will share data-driven, practical solutions for helping to lead and sustain these necessary changes.
Stay-at-home orders didn't create isolation, but accelerated what was already a concern. These new realities confirm what Springtide research has been showing, namely, that it's time for faith leaders to pivot from programming and start leading with relationships, especially when it comes to young people.
Sign up today and receive:
The Springtide Social Distance Study discovered an astounding fact: young adults are not experiencing a decrease in their faith. In fact, 35% report increased faith, and almost half (46%) of respondents report having started new religious practices.
This survey also found that when a trusted adult outside their house connected with young people, nearly eight out of ten report feeling less lonely. Of those adults who reached out to young people, the most common connection was family and friends (89%), followed by teachers/professors (5%), bosses (2%), and clergy or faith leaders (less than 1%).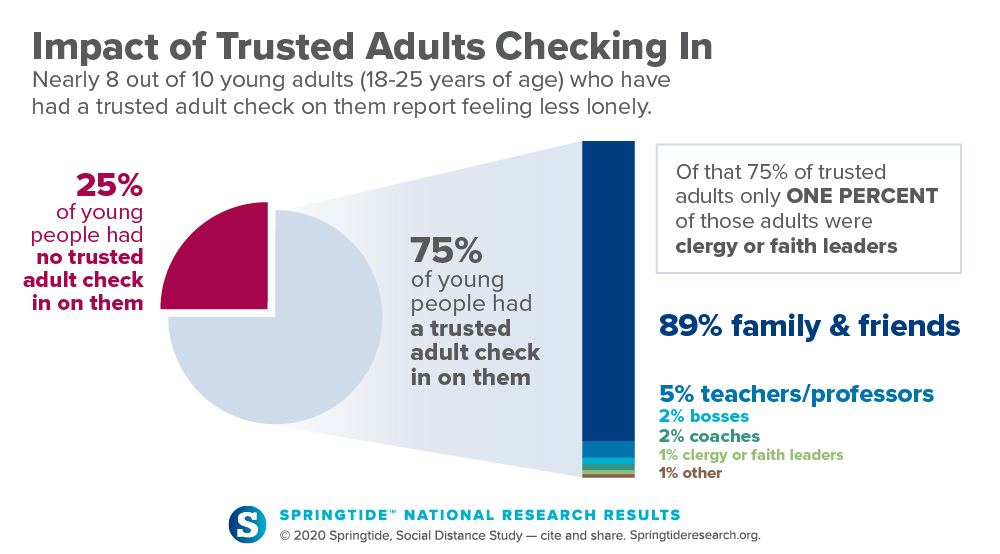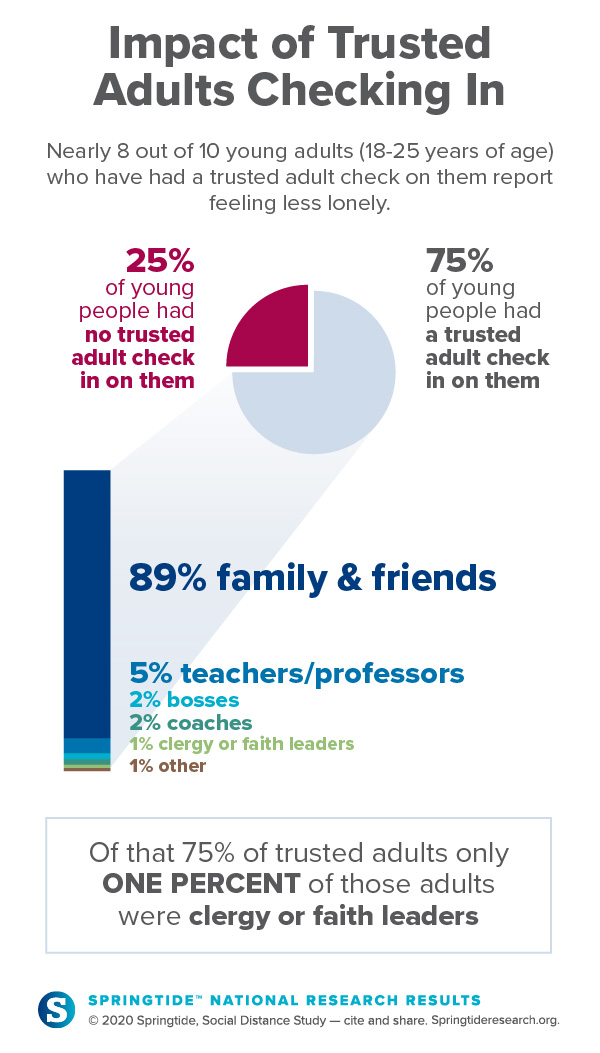 If one thing is sure it's this: young people need trusted adults to guide and accompany them on these newfound faith experiences. As detailed in Belonging: Reconnecting America's Loneliest Generation , Springtide research demonstrates that young people feel more alone, isolated and disconnected than ever. However, the data also reveals the important role that trusted adults have in creating relationships that lead to belonging.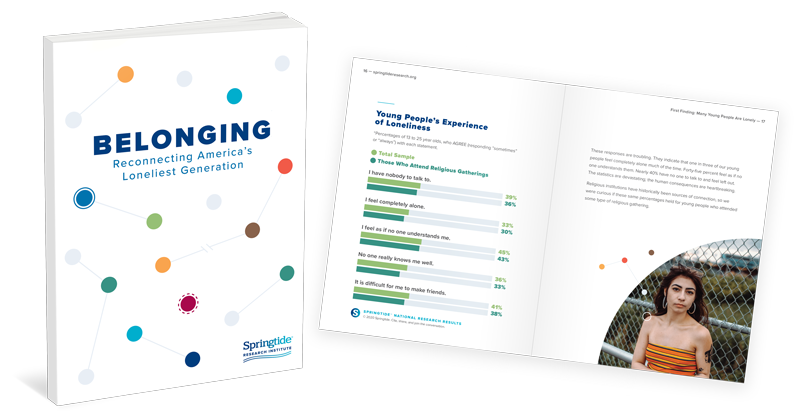 How do we help young people find a place to belong—where they are noticed, named, and known?
Get the new national research report examining the landscape of loneliness specific to 13-to-25-year-olds. Belonging: Reconnecting America's Loneliest Generation