Meet Christian, the Teen Who Created Our Podcast Music
The Voices of Young People Podcast from Springtide Research Institute features original music from Christian Unthank, a 14-year-old high school student in New York who designed and produced the music heard in every episode. Christian created our podcast's theme music right as social distancing and stay-at-home orders were going into effect across the United States in response to the coronavirus pandemic. We wanted to catch up with Christian to learn more about what inspires his musical endeavors and how he's managing through COVID-19. In addition to this interview, you can hear directly from Christian in episode 3 (The Power of Listening) of the Belonging Series (season 1) of the Voices of Young People Podcast.

Our Q&A with Christian: 
We know you are passionate about creating music. What are some of your other interests or passions? 
I also like to play video games and spend time outdoors. 
How long have you been creating music? 
Three years 
What got you into being interested and involved in music production? 
I figured it was a way to make the music I wanted to hear. 
What instruments do you play and/or experiment with? 
I play piano, but for my music production, I use a lot of synths and sampling. 
What were some of your inspirations and creative process for creating the Voices of Young People Podcast music? 
About 10 months before I made the Voices of Young People Podcast track, I made a song called 'FUTILE.' It's a low quality EDM [electronic dance music] song that samples a video game theme. I used the chords from that song to shape the chords for the podcast. Finding a melody and chords that fit the mood of the project and making it work with my production experience is the driving skill. 
I use FL Studio as my DAW (digital audio workstation). I used a few drum samples which I mixed with frequency equalization, compression, and slight distortion. The melodic parts were from a synth called FLEX, which has lots of preset sounds like orchestral instruments and pre-made pads. 
Broadly speaking, what inspires you to create music? 
Skrillex is my main music idol. I think what inspires me the most is the fact that I CAN make music just like my idols. I can learn and improve and make a name for myself doing what I love. 
If someone had never met you before, what would be some important identities you'd want them to know about you? 
"Hi, I'm Christian. Nice to meet you." I'm a pretty vanilla person, straight, and male. I don't think there's much to say about me other than I'm just a kid. 
Where do you find meaning and purpose? 
I think my purpose is to do what I want to do and see other people enjoy it. I don't think of it as a purpose or a meaning, I just have a conviction and a goal. I think I just exist to accomplish whatever I'm passionate about. 
Would you describe yourself as a having a spiritual/faith/religious identity? If so, how does that identity influence how you find meaning and purpose? 
Yes. I do consider myself religious and spiritual. I'm a Christian and a utilitarian, but of course there's many old religious ways I overlook due to them not aligning with my idea that all people are equal. I consider myself spiritual because I believe in energy, souls, and whatnot. 
My religion does not necessarily influence my music and my passion. I think I was given a gift from God to be as talented as I am, but other than that, I don't see my religion playing a part in my music. I'm simply a kid who likes to make music, not a Christian who makes Christian EDM, if that makes sense. 
Who are the people you're safely connecting with during this ongoing season of social distancing? 
I stay connected to my friends in my online D&D [Dungeons & Dragons] club, my friends through video games, and my friends through social media. 
Are trusted adults checking in with you (inside or outside your home) during this time? What does that connection mean to you? 
I live with my two parents and my brother. None of us are somewhere we can't find each other. It's just normal summer break except we wear a mask when we go outside.  
What has summer 2020 looked like for you so far through COVID-19? Are there plans that had to change or experiences you wouldn't have otherwise been having without the pandemic? 
It's been okay. My brother and I were gonna go to summer camp, but that got cancelled. Other than that, not much that has changed. 
Do you have a sense of what your academic and social life will look like in fall 2020? If so, what are you anticipating? 
It's just gonna be more online learning and the same basic quarantine things. 
Where can people find your music online? 
I don't make trap beats as my passion, though I made it for the podcast. I typically make EDM, like Dubstep. I'm working on a lot of music currently, but it's not coming out any time soon. I guess people could find me on Instagram (@chun.wav) and they'll see where to find my music there. 
Anything else you'd like us to know about this project, your process, and/or your social distance experience right now? 
No not really, I don't think so. I'm just a kid working on some music and chillin online.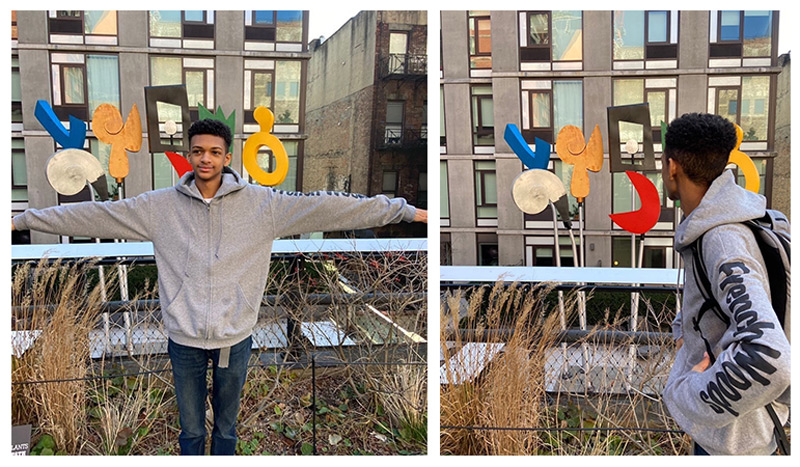 Christian Unthank hanging out on the High Line in New York, NY in early March 2020, right before stay-at-home orders went into effect.
Springtide released a  Social Distance Study  in April 2020 which found that the single most important way to mitigate young people's experiences of loneliness is for trusted adults to reach out and connect with young people. While many young people, like Christian, continue to find creative outlets even through the challenges of COVID-19, our research confirms the ongoing need for trusted adults to be relationship-driven with the youth and young adults in their communities. Consider how you might connect to the young people in your circle of care by engaging their interests or encouraging their creative pursuits. 
 
Listen to the Voices of Young People Podcast wherever you like to get your podcasts. You're invited to subscribe, rate, and review to help more people discover this resource too!