Springtide Research Advisory Board Members
Our research advisors' insights inform research design, data gathering, and reporting of our findings. The collective wisdom and the range of perspectives from our research advisory board helps us recognize young people as individuals and existing within national trends. This board helps to ensure our applied research is deeply authentic and highly actionable.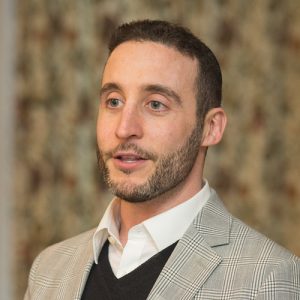 Elan is a rabbi and an entrepreneur. He spends much of his time exploring the rich intersections and abundant possibilities between these two traditions. He's committed to leaving behind a world that is more compassionate, connected, and just, and in pursuit of that commitment, he is the Founding Director of
Glean Network
, an incubator and network for entrepreneurs who are building new models of faith in action, and Director of Innovation at
Clal
, a think-tank focused on the future of faith in America.

Rabbi Elan is blessed to live and learn with his wife, Lizzie Pollock, and their two children, Micah and Nessa, in Providence, Rhode Island. He reads broadly and voraciously, cooks adventurously, and finds sanctuary on the rock climbing walls of New England.
Elan is passionate about supporting Springtide not only because he is mission-aligned with the organization, but because he believes that the future of spirituality and faith must be built upon a sturdy foundation of research that both inspires the hearts and guides the hands of creators, practitioners, and innovators alike.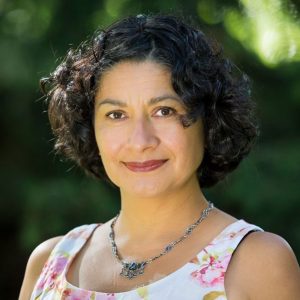 Before coming to the United States in 2001, Araceli was a champion for community involvement and empowerment in policy-making in her native Mexico. She currently serves as the Parent Involvement Coordinator at Centennial BOCES (Board of Cooperative Educational Services), dedicating her life to promoting the inclusion of immigrant and refugee voices in community building and policy setting in northern Colorado. Her work through local educational and cultural programming is a remarkable example of advocacy for immigrant rights through community engagement and empowerment.
Araceli lives in Greeley, CO. Away from work, she enjoys gardening, walking her dog Chocolate, and having family time with husband Robbie and daughter Myrna.
"I want to be part of Springtide because I have a teen daughter and many nieces and nephews who encourage me to be better prepared and support them in ways that are not always possible in our community," Araceli says. "As a part of my work, I interact with immigrant and refugee families facing immense difficulties to communicate with their children in ways that best fit their traditions, values, and faith. I would like to see how young people are finding their way in receiving support from groups like Springtide and within their new communities."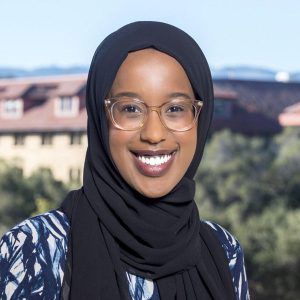 Nima is a Stanford University PhD student in sociology, studying access to housing and racial discrimination.
She aspires to use her research and time to contribute to a more just and equitable world. Nima is a co-founder and board member of Refuge, an organization centered on mentoring young adult refugees. She also provides data scientific aid to school districts and educational organizations in the San Francisco Bay Area, aimed at furthering understanding about how interventions affect students.

"I have three phenomenal sisters who inspire me daily," says Nima. She counts among her passions music, poetry, and nature, and in her free time enjoys listening to a large rotation of podcasts, hiking, and watching movies. 
Nima says of her involvement with Springtide, "I am fascinated by and deeply invested in how young people experience belonging, identity, and meaning. I have found deep spiritual nourishment and identity in my faith practice; understanding how and why pathways to meaning are available for some (and how access to these pathways might be increased to all) is of intellectual and personal interest for me."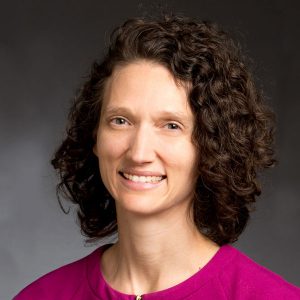 Sarah serves as the Clinical and Social Services Director of Out Youth and Transgender Wellness, providing oversight, supervision, and direct services at this community-based nonprofit which promotes mental health, wellness, and social connection for individuals of all sexual orientations and gender identities as well as their family members, partners, and allies. 
Sarah is an active member of St. David's Episcopal Church in Austin, Texas, and also serves as a founding board member for the Central Texas Transgender Health Coalition. The coalition provides education to mental health and medical professionals to improve care for the trans and non-binary community. 
"I hope, in some small way, to leave the world a better place than I found it by leveraging my privilege to promote justice," says Sarah. 
"I am proud to be a native of the rust belt and to have settled down with a native Texan," says Sarah. Married now ten years, she and partner Mel "have a spunky 7-year-old kiddo named Hadley, a sweet and dopey dog, and two cantankerous cats." 
"As a queer Christian, I often reflect upon how membership in these communities inform my identity, sense of meaning, and self," says Sarah. "I interact with many adolescents and young adults professionally and someday (way too soon!) will be the parent of a teen. I'm intrigued by Springtide's endeavor to research meaning-making with this population."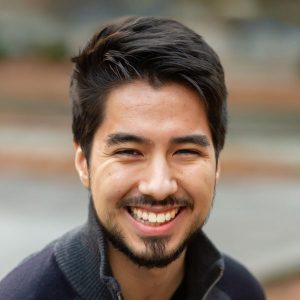 Kenji wears multiple hats—as the Groups Coordinator at Howard Brown Health in Chicago, adjunct professor at McCormick Theological Seminary, and community care chaplain for The Obama Foundation's fellowship program. "In these roles, I provide direct spiritual care to diverse populations in both medical and corporate settings," he says. He is also much involved in his home church St. Paul and the Redeemer Episcopal Church. 
"I feel called to work with individuals and communities as they engage the ghosts of the past," says Kenji. "I think lots about what has happened to the land and to its people, and believe strongly that building strong and accountable institutions can help us to come to terms with those things we have preferred not to remember. I seek to honor the legacy of my ancestors and to move towards what may frighten and discomfort us in the hope of healing." 
Recently married to longtime partner Brianna,
Kenji
 enjoys teaching, writing, preaching
,
 and providing clinical services. "I especially enjoy giving walking tours of 'race and place' and Japanese American history through the Hyde Park/Kenwood neighborhoods," he says.
On his work with Springtide: "As a young person, I was raised across several religious traditions that offered me different ways of approaching and understanding faith. I am passionate about creating theologically attuned and empowering resources for young adults and am interested in reflecting more widely on how y
oung people
 continue to make meaning, draw from, and contribute to religious ways of understanding. I am thrilled that Springtide is coming into existence, and excited to be a part."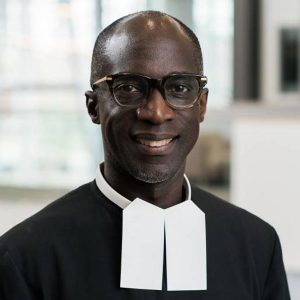 Br. Ernest serves as Vice President for Mission, Diversity, & Inclusion at La Salle University in Philadelphia, PA. Summarizing his life mission and goal, he quotes from Dr. Martin Luther King, Jr.: "The arc of the moral universe is long, but it bends toward justice." Says Br. Ernest: "Situated in the Christian prophetic tradition, this notion is a guiding light for me."
Previous assignments include five years in district leadership roles in Lasallian ministries and formation. Prior to that, he served as a teacher at three Lasallian secondary schools. At one, Central Catholic in Pittsburgh, PA, he was founding director of the David S. Baginski, FSC (Christian Brothers) Scholars Program, an interdisciplinary studies endeavor for honors-level students. Ernest is "actively involved in education and advocacy on human rights and justice issues."
Among hobbies, he includes travel, "especially by train," political and international affairs, and reading.
Ernest describes his role with Springtide as part of his "Lasallian commitment to the spiritual formation and personal development of young people."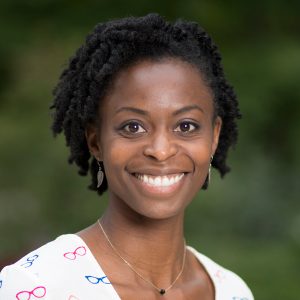 Onnie is a developmental psychologist and assistant professor of psychology and education at Northwestern University. At Northwestern, Onnie teaches courses on social and emotional development and understanding research through a lens of equity and justice. She also conducts research on youth identity development with a focus on the ways that young people make sense of and resist social inequalities and stereotypes related to race, gender, and social class. Additionally, Onnie directs the Development of Identities in Cultural Environments (DICE) research lab, where she mentors undergraduate and graduate students in research.
Married during college, Onnie and her husband have 17 years of partnership and two young girls. Onnie says her enjoyments include "chocolate, yoga, and wine!"
"I grew up in the church and a Christian family. My faith has always been integral to my life," says Onnie, "and I'm finding that my research on youth identity development positions me to explore faith in new ways. I also find that my research focus on social justice and equity raise important questions for faith and faith-based institutions to engage toward building a more just and human world."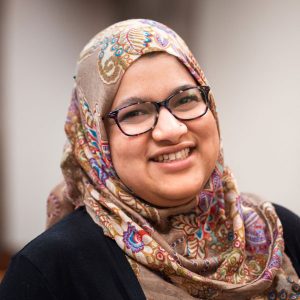 Seher is a pediatric staff chaplain at a hospital in Oakland, CA. Previously, Seher served as the Assistant Director of Spiritual Life and Advisor for Muslim Affairs at the University of Chicago, where she worked with all the religious student groups and communities. She also worked as a Chaplain in Residence at Georgetown University, where she completed a Clinical Pastoral Education Residency. Passionate about building communities and interfaith bridges within her professional and personal life, she describes her life mission and goals as "cultivating healthy communities founded on compassion and care for one another."
Seher loves arts and crafts of all kinds and describes creative outlets as "one of the avenues important to my spirituality."
Seher is a part of our research advisory board because Springtide asks many of the questions that arise in her daily work with young people.  "Whether on college campuses or connecting with young people receiving medical care, there are trends that remain the same through the years," she notes. But we keep asking these questions and listening closely because we know even within these trends, there is "a lot that changes" in the lives of young people.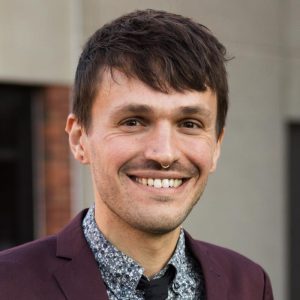 Chris is a writer and community organizer. "As a writer, I explore how and where people find meaning and belonging. As a community organizer, I try to support nonreligious people as they seek connection and fulfillment in life." The author of Faitheist: How an Atheist Found Common Ground with the Religious and the upcoming IRL: Finding Realness, Meaning, and Belonging in Our Digital Lives, Chris also is founding director of the Humanist Center of Minnesota, which seeks to understand the needs of the religiously unaffiliated in Minnesota and beyond. 
"I want to help people better understand themselves and one another, and to embrace curiosity and uncertainty," says Chris. "I've spent the last decade doing so as a chaplain for the nonreligious, but whatever form it takes, this is probably my biggest motivation in life. I'm a product of a Lutheran university, and accordingly I feel deeply shaped by the idea of discerning a vocation that sits at the intersection of one's interests and skills and the world's needs. I strive to do what I can with what I have to make the world a more just place for all people—one in which everyone has the means and ability to consider what gives their lives meaning, and then pursue it." 
On a more personal level, Chris says, "I have a dog named Tuna who is a very big part of my life, ha. I'm also close with my family. I help take care of my stepdad, who has Alzheimer's, and am close with my two nephews and niece." 
"The work of Springtide seems incredibly aligned with my own goals," says Chris, "so it feels like a wonderful opportunity to both contribute and learn."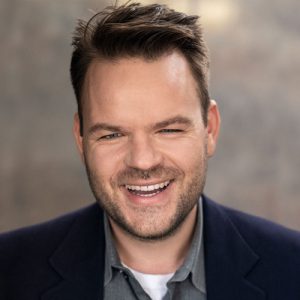 Casper describes his life's mission as "helping to build a world of joyful belonging. I spend my time thinking about how to design for social connection and spiritual meaning-making."
Casper lives with his husband Sean Lair in Brooklyn, NY, and loves both Eurovision and Leeds United in equal measure.
Casper is a member of Springtide's research advisory board because he is passionate about understanding and influencing how young people make meaning and find connection in the 21st century.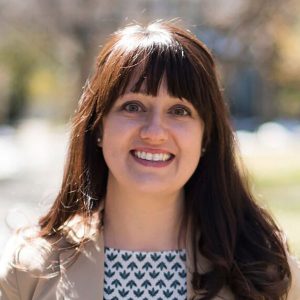 Rev. Abigail Visco Rusert
Abigail is the Director of the Institute for Youth Ministry at Princeton Theological Seminary, where her work bridges theological discourse with the practice of youth ministry: creating programs, resources, and teaching classes for Christian ministry leaders. She is the Principal Investigator on the Log College Project grant, funded by the Lilly Endowment to research and establish a process for helping churches to design new forms of youth ministry.
A Presbyterian minister, frequent speaker, and author, Abigail has worked as an associate pastor, researcher, youth director, chaplain, and camp counselor. She lives with her spouse, Thomas, and children Dorothy, Solveig, and Frank in Doylestown, Pennsylvania.
Her life mission and goals dovetail well with her involvement with Springtide: "I strive to cultivate generous and welcoming spaces of joy, laughter, love, exploration, and collaboration among unlikely groupings of people so that they grow in their love of God, their communities, and themselves, and lean into their God-given gifts to change the world. I also strive to lift up the stories of innovation that are creatively re-shaping the work of the church. One of the questions I'm asking in my day-to-day work is: How is the church called to re-design and re-build the bridges between young people, Christian faith, and congregational ministry? I think that the research conducted by Springtide will inform these questions through bridges built across the lines of religious dialogue, instigating innovation and creative collaboration.
Andrew is a Research Professor in Youth Ministry at Austin Presbyterian Theological Seminary and the Director of the Master of Arts in Youth Ministry (Nashville Extension). In addition to his work as a professor and director, Andrew is also the chief strategist of the Lilly-funded Innovation Lab at the Center for Youth Ministry Training (CYMT), which is dedicated to helping congregations and community-based ministries develop new ways of meaningfully engaging young people, as well as the cofounder and former director of CYMT's Theology Together Project. He received his Ph.D. from Princeton Theological Seminary and spent more than 20 years as an ordained youth and young adult minister in congregations around the country.
Passionate about bridging the disconnect between young people's religious faith and everyday life, Andrew says he is "committed to discovering how I can support faith formation that attends to both strong identity and self-esteem, while also being equally committed to self-giving love and justice for others and creation."
Andrew is an avid traveler, having visited nearly 30 countries across five continents. Father of two teenagers, Andrew is also an advanced certified scuba diver, a dabbling woodworker, and he keeps a marine reef aquarium with a variety of fish and corals.
Thinking of this work with Springtide, Andrew reflects on the formative religious and human experiences of his own teenage years and recognizes the need for faith communities to meet and serve young people in this season of their lives. "I see Springtide's research as vital for directing our attention and action toward ways that youth are being formed spiritually in today's world so that religious communities can more effectively minister with them."