The State of Religion & Young People 2021: Navigating Uncertainty — Resources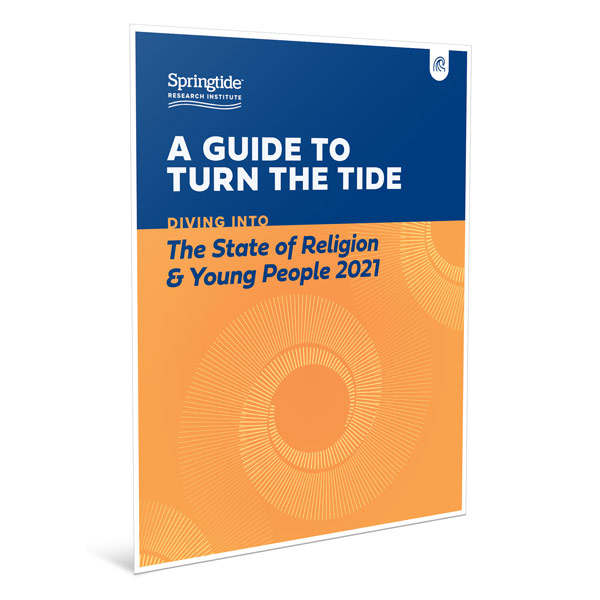 Are you enjoying the report?
Check out the accompanying discussion guide to get even more practical use out of the data.
These resources align with the numbered marginal notes throughout the report:
Page 5–Watch: Members of our Springtide Ambassadors Program brought our Springtide Tribute to life with their creative interpretation and filmmaking skills.
Page 14–Watch Dr. Josh Packard and Ryan Burge discuss the "nones" of religion, and young people who are growing into religion.
Page 16–Watch Dr. Josh Packard explain why a sociological approach is needed to navigate religious identity among young people.
Page 17—Listen to The Voices of Young People Podcast, Season 5.
Page 21–Watch some of Springtide's ambassadors discuss returning to campus in the fall and what the pandemic has meant for them.
Page 23–Watch Dr. Josh Packard and Derrick Scott III talk about how non-white and queer young people are navigating church.
Page 24–Read about these findings in our Social Distance Study.
Page 36—More Data: "Young People Report experiencing trauma, stress, and uncertainty" (slide 1 below)
Page 40—More Data: "What's Causing Uncertainty?" (slide 2 below)
Page 42—More Data: "What is your present religion?" (slide 3 below)
Page 46—More Data: "The Majority of Young People Are Religious or Spiritual. But what do they believe?" (slide 4 below)
Page 47—More Data: "How connected do you feel to God, nature, or others?" (slide 5 below)
Page 47—More Data: "Personally-held beliefs don't necessarily affect how young people go through the rest of life." (slide 6 below)
Page 48—More Data: "How often do you engage in the following activity as a spiritual or religious practice?" (slides 7-12 below)
Page 53—More Data: "I would not have the beliefs that I do without my community" (slide 13 below)
Page 59–Watch Dr. Josh Packard talk with Crystal Chiang and Brett Ryan Talley about youth ministry and Gen Z.
Page 60–Read, in our Voices of Young People blog, about how seven student filmmakers turned to art to process the pandemic.
Page 66–Watch Dr. Josh Packard interview Harrison Blum and Rev. Sumi Kim on what attracts Gen Z to Buddhism.
Page 73–Watch Dr. Josh Packard and Tim Coons talk about belonging in an age of social isolation and disconnection.
Page 77–Watch Aliza Kline talk with Dr. Josh Packard about how building Shabbat dinners helps young people feel connected.
Page 79–Read, In our Voice of Young People blog, about how participants in the Springtide Ambassadors Program define and experience community.
Page 80–Watch Dr. Josh Packard and Rabbi Joshua Stanton discuss how Jewish young people are navigating their spirituality.
Page 85–Read the blog post about the playlist that Springtide interns created by inviting young people to contribute songs that help express how they feel amid uncertainty.
Key Findings - Additional Data by Age, Present Religion, Race & Gender
In the Key Findings section of The State of Religion & Young People 2021,  we provide data and insights related to uncertainty, religious identity, religious beliefs, religious practices, and relationships. Below are additional breakdowns of some of the findings reported in that section.
Toggle back and forth to see different spreads of data according to age, present religion, race, and gender by clicking the boxes on the left-hand side of the graphics.
Disclaimer: The following dashboards were designed to enable audiences of The State of Religion & Young People 2021 to explore more nuanced and detailed data cross-sections. While each of these data visualizations encompass the entire sample of the publication, the total N for many of the breakdowns are considerably smaller. Each additional filter that is selected reduces the number of people represented even further. For this reason, the data in these graphs are informational only–designed to be used for conversation, consideration, and future research. Put differently, these percentages are directional, not conclusive. Data from these visualizations should not be cited, published, or quoted.   
For additional questions, please contact research@springtideresearch.org.