Bring our engaging, research-based insights on Gen Z to your next event
Gen Z is the most diverse generation that has ever existed, and they expect more from your organization. Springtide has the data and understanding to equip you with the insights  you need to help this emerging generation flourish.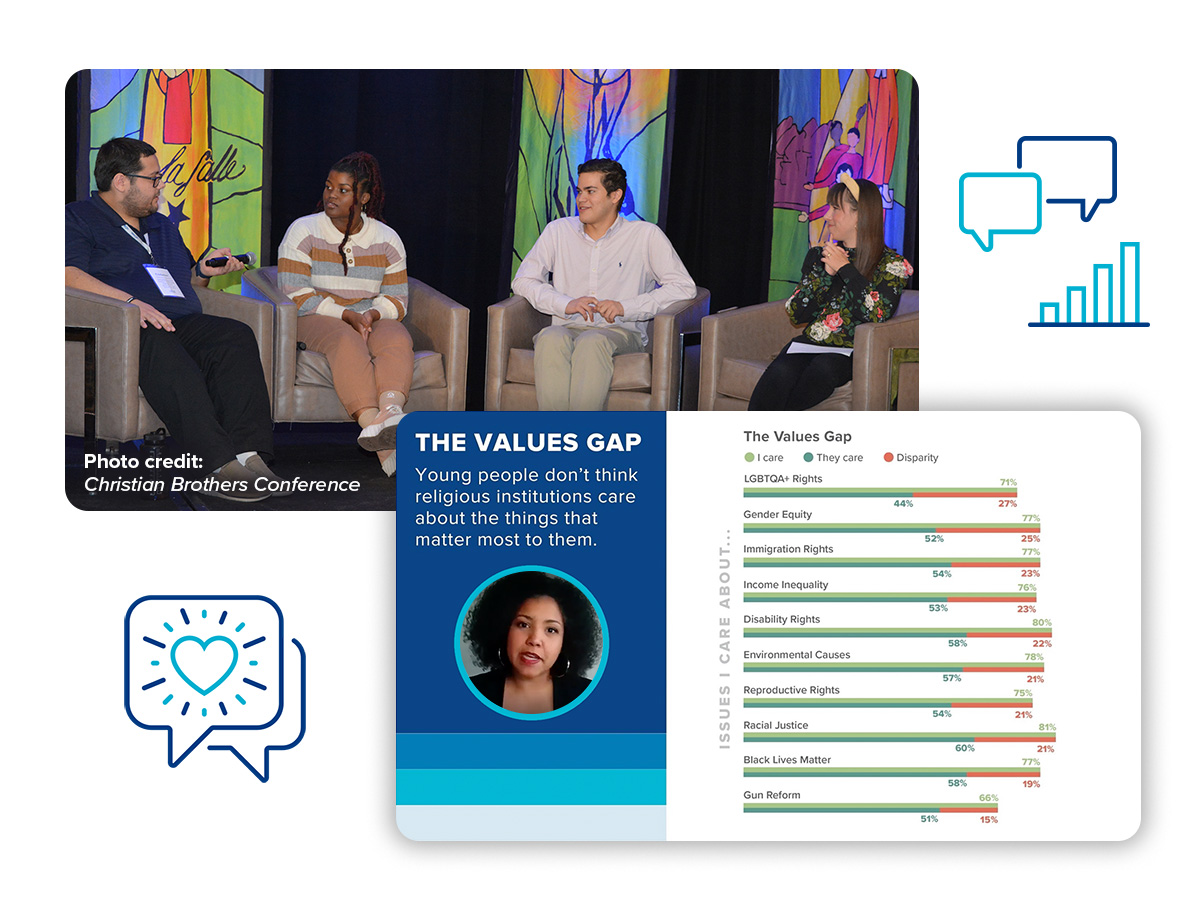 Dynamic speakers and a wide expanse of topics
Visit our research page to see our latest reports. Each one includes frameworks and actionable insights to empower leaders, organizations, and trusted adults to have an impact in the lives of young people. Our research expertise includes:
Learn more about our national Springtide speakers
Our national speakers each come with their own unique perspectives, area of expertise, and skills. Click below to read more about each of our speakers.
I was blown away by the Springtide Ambassadors' insights and thoughtful commentary, as well as the engaging presentation from the Springtide Team.
Having Springtide join our event in person made tangible and digestible the research and data we've long used in our programs. We were especially grateful to have the opportunity to hear reflections from Springtide's Ambassadors, as well as our own youth stakeholders, on their personal perspectives and experiences.
Interested in bringing Springtide's expertise to your next event?
Business & Organizational Leaders
Gen Z expects more from workplaces than any other generation. It is increasingly the site of meaning making in their lives. Employers, mentors, and guides must understand this trend and the values Gen Z cares most about in order to engage and support this emerging generation.
The single most important thing to understand about Gen Z is the ongoing decline of trust for institutions. This social trend has massive consequences for organizations of all kinds. Isolation and loneliness are at epidemic levels for our youngest generation and require business leaders to think about engagement through a lens of belonging to help Gen-Z flourish and thrive.
New research data shows how the religious landscape has shifted in America over the last 50 years, ushering in an era of massive mistrust and institutional disaffiliation across all sectors. The solution is to create cultures of belonging. 
The future of the church lies with young people.  This presentation relies on data from Springtide Research Institute's annual State of Religion and Young People study to explain how we need to rethink everything when it comes to the ways we engage with the most diverse generation in history. 
For many young people, there is no normal to return to after the pandemic.  Their entire lives have changed.  Our pandemic research focused on what young people are experiencing, how they view the future and, most importantly, what you can do to support them. 
Josh can customize a talk for any audience and format. From keynotes to breakouts, in person or virtual, all his programs are based on Springtide's data and his decades of expertise as a sociologist. Below are some of the most requested presentations:  
"I didn't invite Josh here to talk to us because of Springtide's data. Everyone's got data. Pew, Barna, everyone. But the unique thing about Springtide is that they help us answer the question, What next? We have this data, now what do we DO with it? That's why I wanted Josh to come."
"This webinar was among the most helpful I have ever attended. The presenters were clear, fluent, prepared, and helpful to people who might not have much research background. The suggestions were all immediately actionable. Wow!"
"Josh's research is an organizational game-changer. He identifies the forces behind the societal trend of intentional institutional disengagement. If you want to leverage this trend, instead of fall victim to it, you need to talk to him."
"Dr. Packard expertly engages with his audience in a way which draws them in to the subject matter. He knows and explains ideas in a way that is easily understood without oversimplifying the topic being shared. He is both smart and humble as a person and as a speaker. He was a highlight of our conference."